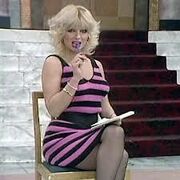 Candy Davis (born Clare Damaris Bastin on 2 January 1962) is an English actress and model.
Daughter of a NASA physicist, Candy was born in London in 1962. She worked in a sweet shop during her teenage years. After being crowned Miss Nude in 1982, she said she aspired to be the world's most beautiful woman and set her sights on the Miss World title.
Candy married the 2point4children actor Gary Olsen in 1982, and they later divorced.
She appeared on television in a variety of popular shows of the 1980s, notably in The Comic Strip series, though not as a regular. However she then shot to fame after winning the role of blonde bombshell Miss Belfridge in the last two series of the hugely successful BBC sitcom Are You Being Served? The show regularly pulled in high viewing figures and she was a hit with fans.
She went on to appear in several episodes of Electric Blue, in the mid-1980s although these appearances were fleeting and limited to guest presenter/host for outdoor segments. After AYBS came to a close, she continued to model for Page 3 and topless magazine deals.
Candy is said to have retired from acting during the late 1980s.  Contrary to gossip, Candy did not go on to work at a University. She now uses the name Clare Dunkel, and is the sole director of Rilke Ltd. She lives near Stroud, Gloucestershire.
Candy Davis was also a sucessful author writing under the name of Mo Hayder.
Sadly she passed away in july 2021 from motor neurone disease.