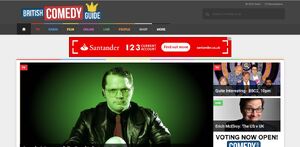 British Comedy Guide or BCG (formerly the British Sitcom Guide or BSG) is a British website covering all forms of British comedy, across all media.[1][2] At the time of writing, BCG has published guides to more than 7,000 individual British comedies - primarily TV and radio situation comedy, sketch shows, comedy dramas, satire, variety and panel games. Other notable features on BCG include a news section, a message board, interviews with comedians and actors, a series of comment and opinion articles, a searchable merchandise database, and a section offering advice to aspiring comedy writers. The website also runs The Comedy.co.uk Awards and hosts several podcast series, some of which have won awards.
Reportedly, British Comedy Guide attracts over 500,000 unique visitors a month, making it Britain's most-visited comedy-related reference website.[1][3][4]
The Guide has four entries relating to Are You Being Served? - the original BBC1 series, the 1977 film, the one off revival as part of the 2016 BBC Sitcon Season and Grace and Favour.